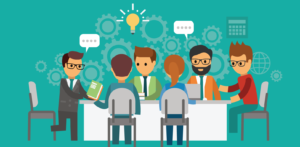 Several years ago, two New York nonprofits decided to partner together and pursue corporate funding. One charity was an educational group that provided scholarship aid to students in the city so that they could attend schools that had a better performance record than the neighborhood public schools. The other organization took students from the same under-resourced communities in New York to spend their summers abroad learning and experiencing other cultures and expanding their minds.
As you know, New York City is the home of Wall Street, and there's a lot of money that flows from those corporations. The two executive directors did not have any idea if their partnership would work, but they decided to pilot a small program, and their goal was to raise a modest amount.
The two executive directors teamed up and scheduled meetings starting with the board members of the educational scholarship group because they had a premier board of directors that included the captains of industry. The initial visits convinced the executives that they had hit upon something.
The first year was a great success raising much more money than they initially expected, and they were able to provide funding for the travels for double the number of students than originally planned overseas for the summer. The pilot became a partner program between the two nonprofits for many years. The corporate CEOs loved the idea of helping high school students who were living in poverty to have the experience, in a globalized world, to experience foreign countries.
The program became a success and was marketed by the corporate funders and the two nonprofit groups as a successful corporate social responsibility partnership (CSR). The corporations promoted the program both to their employees and also the New York City public as something good they were doing for the students of the city.
Why Corporate Social Responsibility Matters
Most businesses in the U.S. are not the corporate titans of Wall Street or Silicon Valley. However, it still makes sense for any business to get involved in philanthropy and figure out ways to raise their CSR profile.
The digital age has forced unprecedented levels of transparency for businesses. Consumers want to patronize companies that are socially responsible.
According to a study by Cone Communications, nine in ten customers want to purchase products and services from businesses that are socially responsible.
Millennials, which is now the largest generation (and consumer group), is highly attuned to patronizing businesses that are socially responsible.
How To Get Your Business Recognized in Your Community for Its CSR
Any business, large or small can become a CSR leader in their community. All it takes is a little bit of planning, and it will provide dividends by letting your community know that you are a socially responsible group that seeks to partner and make your part of the world better for those who live in the area.
Authenticity Matters: When you're considering what organizations to support, the first thing you must keep at the top of mind is that we live in a world of authenticity and transparency. The public can quickly sniff out opportunism. Don't do it. Align yourself and your company with organizations that have similar values or interest you. You should feel passionate about the cause because if you don't, it'll show.
Assign a CSR Quarterback: Think about it, when you do any project, you usually assign a point person to spearhead the efforts. The quarterback as the responsibility and accountability for the success of the project. The same thinking goes for implementing a CSR program for your business. Get a volunteer or assign a quarterback within your company to have the responsibility for developing a plan and executing a CSR effort.
Get Your Team Involved: When you're thinking about how best to approach CSR in your community for your business, get your team involved. Ask their opinions and make it a team effort. If you get your staff participating in the decision-making, they'll have ownership, and they will be advocates, using their social networks as well, in helping you spread the message about your efforts. Once the decision is made, develop ways for your team to give their time and resources to the company's cause.
Provide In-Kind: If your small business does not have the financial ability to give money, it can still make an impact donating goods and services. Your marketing team can give of their expertise to nonprofits that are in need of digital marketing expertise. If you run a retail shop, you can open up your business for an event at your location. If a charity is running an auction, you can donate some of your products as items to be auctioned. The sky's the limit; all you have to do is think creatively.
Make Philanthropy Part of Your Plan: Many corporations are excellent at corporate social responsibility because they have made it a point of integrating CSR right into their business plans. If you want to have philanthropy become part of the DNA of your business, you have to have it become an element of your company that is just as important as making a profit. Consider the metrics that you use for making money and develop measurements for the philanthropic efforts that your business will do so that CSR is integrated into your company.
Once you've started to execute your CSR program, it's essential to get the word out, just as you would do any marketing regarding your business. You want to make sure the community becomes aware of your work as a good corporate and business citizen. If you consistently make CSR part of the culture of your business, including incorporating it into your business meetings and team updates, you will empower your team to help you spread the word in media and through social networking.
Article Source: http://EzineArticles.com/9809592